'She who knows and knows that she knows…'

… is a wise woman; seek her'

That (barring my blasphemous feminism) is a quote from Confucious that feeds right into my content point in this piece!

Up until about 10 years ago in my career, it was fairly commonplace that people only documented strategies for things on two types of occasions. (I speak of departments of larger organizations in particular.)
When it was the end of the year and you needed to slap something together to get that goddamn budget approved. (Throw something together so you have enough money and you'll figure it out later.)
When you were looking for improvement. (Something's gotta change and you're hoping that if you start with a plan, you'll get there.)
Approaching strategy this way was not ideal. For anything. Not for departments. Not for smaller entities. But it was 'traditional'. Who really cared about that dusty PowerPoint until performance review time rolled around? It was unfortunate but predictable. Seen in too many organizations till sh!t hit the proverbial fan.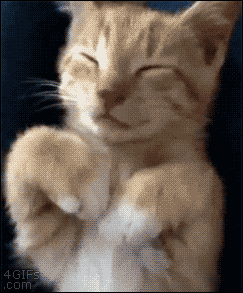 More recently, things have changed. Not just for the big wigs with the greater emphasis placed on accountability, today… but for small business too. Did you know 30 per cent of the Canadian workforce are 'non-traditional workers' – ie: part of the gig economy? And that's not even taking into account businesses that are larger than one person. That's a lot of people in one geography trying to make their businesses work.
That, in my opinion has brought about a return to basics. A focus on best practice. A return to 'think first. act after.'
It has brought simplification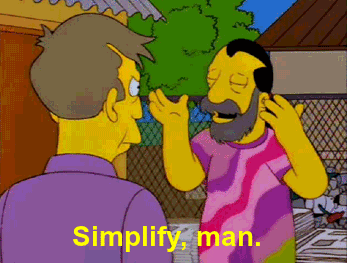 And like much change, simplification has come painfully.
Think about this… if 30% of the workforce has non-traditional work, you can safely extrapolate, in very accurate data terms, that a GOOD CHUNK of them is out there promoting themselves in non-traditional ways – ie: social media.
If we've honest, many of us have tried that approach on occasion, haven't we? The 'let's just hop on social, drop something massively significant about our lives, then sit back and watch the counter, wondering why it isn't moving with 1000s of people jumping at what we said' approach.
Things have change with social media. Whether its changed because of people's use of it, other people's issues with some people's use of it, or because social media platforms have figured out how to monetize things is less relevant… but it has changed. Today, many of us get little more than a very small reach organically. It's worrying. And demotivating. And enough to get you to a grinding halt, throwing up your hands, saying 'this shit doesn't work'.
I don't blame you.
Because if you're just doing, without planning and measuring, there's little point.
But light exists at the end of this tunnel. And this series of 10 posts on content strategy and how to simplify it so everyone can have one is intended to help you see that.
Today I want to talk about the next important step on that path, in particular.
I like to call it compiling your content encyclopedia.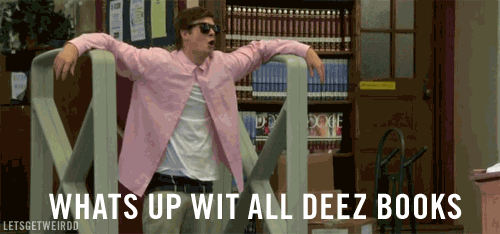 Think about it. If you're making a living out of something that involves your brain, you are in possession of a ton of information on your 'subject matter' – aka area of expertise. Stick with me. I know our bi-polar culture of either selfie-all-the-way or shush-we-mustn't-talk-about-ourselves-too-much leaves us feeling uncomfortable with words like 'expertise'. That's ok. You don't have to be comfortable with it yet. Just allow me to point you to how much you know.
Stay with me… we're almost there.
Think about every presentation you've made.
Every workshop or event you've spoken at.
Every collaborative effort you've been a part of.
That's all content. Drill deep. Not just your website and blog. EVERYTHING. When you take a minute to put down everything you've got that speaks to your expertise, yes expertise, you'll feel a fresh sense of wonder. Because it WILL be an encyclopaedia.
Remember: define content as anything: video, long form, short form, member content, recipes, workflows, messages posted directly to social and nowhere else… it's all content.
Get comfortable thinking of the results of your content audit as a large encyclopaedia of your expertise. Now use snippets from the encyclopaedia to market yourself.
It's the most solid, legitimate thing to do. If you, like many, feel yucky about self-promotion. Once you start to see it that way, and it can take a while, things will start to come together.
(Swift aside: It's what finally made me take action and put together that program for small brands that I have been vaguely promising to get to for too long. When I took my own advice and audited all the content I have in different places – the frameworks, the custom work I've done for many people that while not directly charged for in the project was part of my due diligence, the scaling up and down of strategies that I've done over the years to be able to work with clients of different sizes…
And I started to see the patterns.
And the wealth of information that could benefit people.
And the ways in which it all could further benefit me that I was totally not using.
Auditing your content not only helps you use what you're using effectively and then some, it becomes the springboard for fresh ideas, or fresh approaches to older ideas.
You know you want to do something cool.
You know you've got cool shit going on in your head.
Bring it together.
My program is here. It's called Content Clinic – and it's 6 weeks to a content strategy that will 10x your results on social media. Take a look for inspiration or because you need help with your content, and why not get started today.
Aside done!)
So how do you do a content audit?
A content audit, a website asset audit, a social media audit. Regardless of what you've heard it called, it's going to require a good long look under your content hood.
Prefer to watch these hacks in video form?
Here are 5 simple steps.
Make a list!
List all of your properties. Your website, your blog, your profiles, your social media channels. All of it. Put it all into one place, preferably a spreadsheet, with a goal of bringing everything together. Don't forget less intuitive sources like the ones I've mentioned up top.
Get a hold of some metrics and analyze them.
How have things been in the last few months on the stuff you have been putting out there? Because we all use social media for SOMETHING. Start there for your metrics – because it's perhaps the easiest data to find. Also look at your website and other member site metrics. What is your most successful effort? What is your least successful effort? Where are you seeing patterns?
Check formats.
Next, take a look at the types of formats that you're creating. Are you happy with the balance? 64% of consumers purchase after watching branded social videos. Are you using video?
Check bios on social.
Check to make sure that you're fully utilizing the opportunity within your bios. Are all your links and images populated in all your profiles and platform back-ends? Are you tagging and hashtagging where possible?
Quantify in dollars and seconds.
What this means is take all of your content and social media effort and quantify it. How much time are you spending on it and how many dollars are you putting into it?
Okay. You have those 5 pieces of information. What now? 
This will help you make decisions going forward. On the content marketing front, it will inform decisions like: what kind of content should you create and curate? what kind of channels should you look to distribute on?
We'll go into detail on all of that later in this series.
For now, audit.
#ConfessionsOfASolopreneur
This is Part 4 in a 10-part content strategy series for independent brands and small business.